SK Septics - Why Choose Us?
Vancouver Island's Choice for Sewerage Systems
At SK Septics, we strive to go above and beyond our clients' expectations. We believe in providing comprehensive service, from consultation right up to site cleanup. With over 25 years' experience in the field, we believe we're Vancouver Island's choice for sewerage system installations.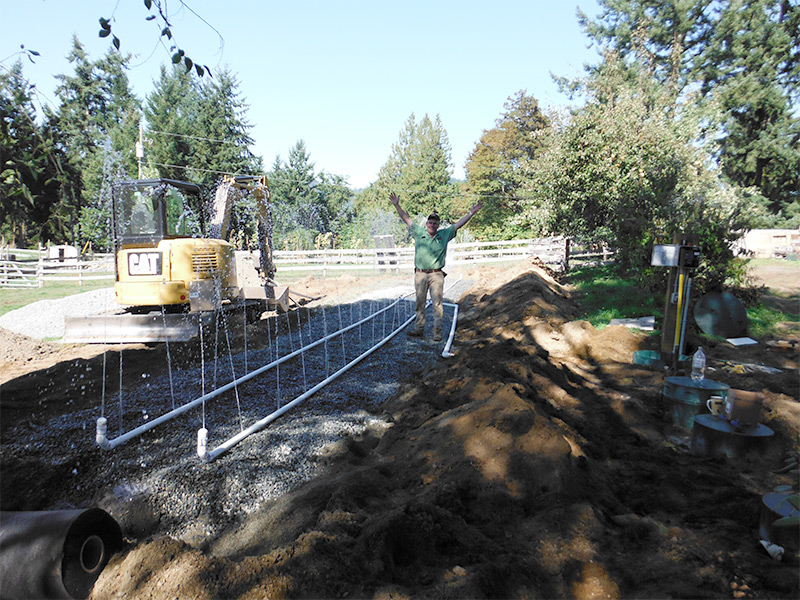 Consultation & Site Assessment
Our services begin with a free no obligation consultation that allows us to identify your needs and walk you through our site assessment process. Our thorough site assessment will tell us everything we need to know to identify the best, and most practical options for your property. Our assessment includes:
Test pits
Permeameter and percolation tests
Several soil analysis tests
The Knowledge & Equipment for any Job
SK Septics' owner, Stewart Krumm is a Registered On site Wastewater Practitioner who is always expanding his knowledge of sewerage systems through industry courses and conventions. Not only is his knowledge up-to-date, he participates in every installation with his onsite, hands-on approach. In addition, SK Septics has a variety of different-sized equipment to handle any job, on any property.
Professional Service & Detail Oriented
For us, professional service means employing safe work ethics, providing an open channel of communication with our clients, and providing detailed and accurate documentation. Having a small team means that we are all on the same page when it comes to our professional demeanor, punctuality, and our commitment to our system designs and minimizing environmental impact.
Want to Know More about SK Septics?
If you would like to know more about our company and the quality of our work, we encourage you to call our previous clients to learn more. Here is contact information for a few of our customers:

Give us a call to find out more

Owner, Stewart Krumm, is onsite for all installations

Don't just take our word for it – check out our gallery